"A superior sailor is one who uses his superior judgment to keep out of situations requiring the use of his superior skills." ~Anonymous ~
The Internet is a fabulous resource for sailing and yachting. The lure of the sea is apparent; the information available ranges from current weather conditions and race results to Tall Ships and extensive maritime history. Purchase a half hull model or view marine prints. Build a boat. Read or re-read MOBY DICK and BILLY BUDD. The Internet offers something for everyone who loves the sea.
Sailing Information
Sail Net - Sailer's Information Source
Knots on the Web - Brush up on your knots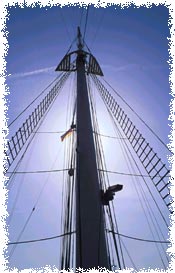 Weather
Sail Net Weather Page
National Hurricane Center
Tide and Current Predictor
Aviation Directory - Mega Weather Links
Build A Boat
The Marine Do-It-Yourself Page - Including kids info
A Boat Builder's Place - Plans
Associations and Organizations
American Sailing Association
International Yacht Racing Union
U.S. Coast Guard
On-Line Magazines
Sailing Breezes
The Sailing Source
Yachting.net
Nautica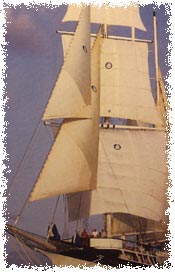 Maritime History
Mariner's Museum
Mystic Seaport
1492-An Ongoing Voyage
Maritime History - Virtual Archive
U.S. Naval Academy Museum
Stories of the Sea
Billy Budd - On-line
Herman Melville Internet Society
Maritime Art & Models
Marine Art Information Center - Museums, Auctions, Galleries
Blumenthal Gallery of Maritime Art



Links to other sites are provided as a matter of convenience. We don't necessarily endorse what you may find there.