Home Tours
Mortgage Calculator
Schools


Located just south of Orlando, Celebration is a brand-spanking-new, old-fashioned small town built from scratch by the Walt Disney Company. The planned community, set on 4,900 acres, includes charming homes on friendly streets and a picturesque downtown with shops, apartments, and offices.
While only a few miles from the pretend Main Street USA in Disney's Magic Kingdom, Celebration is a very real place filled with real families. Only one year after the first residents moved into town, more than 300 families now call Celebration home.
Disney is a master of make-believe. But building a real town is another story. "Our priority from the start was to create a cohesive community," explains Joe Barnes, manager of residential architecture at Celebration. "We hew it would involve much more than building a collection of pretty houses."
Streaming Video
If you missed the streaming video movie link on the first page of this web site, you can connect to it here.
RealPlayer is required for movies. If you do not have it, you can download it free now.
Celebration, Florida




The Walt Disney Company turned to a number of renowned architects and landscape architects from around the country to design this ambitious endeavor. The experts, in turn, looked to the best-loved American towns to determine why they have remained popular and appealing over the long haul.

"We used to know how to build a town. What happened?" asks Jaque Robertson, who collaborated with Robert A. M. Stern to develop the master plan for Celebration. "We were determined to get back on track and return to a more sociable and civic-minded way of life," he continues.
As a result, the overall layout for Celebration alludes to another place, another time. Neighborhoods recall Savannah; Charleston and Beaufort, South Carolina; small towns in North Florida and South Georgia; and even East Hampton, New York. In each of these historic towns, there exists a wonderful relationship among the buildings. No two appear exactly alike; they have a friendly contrast - tension and harmony.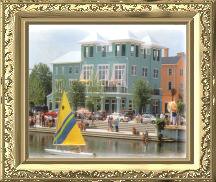 The buildings of downtown Celebration engage in just such a lively dialogue. The town center fronts a lake, and public buildings such as the town hall, post office, and a bank occupy prominent locations. But the charm of the downtown lies in what the architects call "background buildings," a mix of vaguely historic three- and four-story structures that define the town.
Along Market Street, the town's main street, palm trees shade pastel-colored stucco buildings. Appropriate for the tropical climate, the buildings feature arcades, balconies, deep overhangs, fountain courtyards, and vibrant colors. Passageways cut through to interior parking lots screened from view from the street.
There's a vitality along the streets of Celebration that lasts into the evenings, thanks in part to a whimsical Deco-style movie theater and a variety of restaurants. But here, people actually live downtown. In addition to several apartment buildings, retail buildings include rental units on the upper floors.
The lively downtown provides a focal point and landmarks for this fledgling community. Yet the real heart soul of the town grows with each family that moves into a new home on tree-lined streets.
Scenes From Celebration
While other new residential communities pride themselves on themselves on their exclusivity and guardhouses, Celebration favors inclusion. Streets are public, and landscape squares are gathering places of the town. The golf course is a public daily-fee facility, and the greens are arranged along public streets so all can enjoy the views.
The planners established a hierarchy of streets that range from the smallest alley to Water Street, a promenade along a canal that connects downtown to the golf club. Parks also vary in size and function. Veranda Place is an intimate residential square evocative of the wonderful squares in Savannah. A sand tot lot anchors one end of the formal Long Meadow Park.
Homes are grouped close together and close to the street as they were a hundred years ago. Garages are relegated to alleys that run along the backs of houses.
There's a broad mix of sizes, types, and prices of homes in Celebration. Rental apartments include one to two bedrooms and start at about $600 a month. Townhouses, cottages, Charleston single houses, and custom houses are sprinkled throughout the community. Real estate prices range from about $130,000 for a townhouse to about $300,000 for detached houses. Custom homes are more.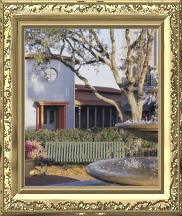 The big picture is a masterpiece at Celebration. Rather than private retreats deliberately detached from their surroundings, houses, encourage residents to embrace the neighborhood outside their front doors. "Our goal was to lay a foundation, create a framework," says Tom Lewis, vice president of development. "The real fabric of the town will be woven by the people who live here."
Although homes vary in size, neighborhoods have consistency in the look and feel of the individual houses based on the Celebration Pattern Book. Developed by architect Ray Gindroz of UDA Architects, the pattern book identifies and outlines guidelines for six architectural styles found in the Southeast - Coastal, Classical, Victorian, Colonial Revival, Mediterranean, and French.
"We view the Celebration Pattern Book as more than just a stylebook," explains architect Robert Stern. "It's about porches, dormers, pitched roofs, wide overhangs, shading, and shadows - the traditional ways people have responded to the Southern climate for generations."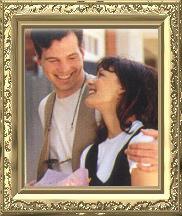 In addition to the engaging town center, wonderful clusters of classic homes, walkable streets, and friendly parks, Celebration offers something else very important to its residents. What many of the young families find so attractive is the innovative public school, which includes kindergarten through 12th grade. It offers a special curriculum devised by a panel of experts from around the country. The Teaching Academy allows educators to visit and observe. Equally innovative is the school's location.
"It was a stroke of brilliance for Disney to place the school in the middle of town facing the common," says architect Bill Rawn, who designed both the Academy and Celebration School. "When you build a new school a mile outside of town and surround it with asphalt and chain-link fence, there's no community investment or control. And the students behave accordingly." Here kids can actually walk or bike to school.
To ensure that Celebration School would blend seamlessly with the community, Bill looked to older facilities in the small towns of Central Florida, drawing from an era when schools looked like schools. This school is large enough to command respect, yet its mildly classical design and traditional detail pay respect to the townhouses across the street. A pair of towers marks an arcaded entrance. "We wanted everyone to know this was an important civic building," says Bill. "And we also wanted a memorable place where generations of students could pose for graduation pictures."
When you visit Celebration for the first time, you're struck by feeling of nostalgia. Jaque, a native Virginian now living in New York City, is quick to defend Celebration's romantic images and references. "Anyone who can recall the scent of a night-blooming jasmine from childhood understands the power of place," says Jaque. "We are not trying to create something new. Our goal is to create something lasting."
Celebration is exceptional because it has re-created just such everyday experiences and places. Although this town will never match the history and tradition of a Charleston or a Savannah, it has something else very important to offer - memories.
The Town of Celebration blends upscale shopping and down-home ambiance for an experience enjoyed by residents and visitors a1ike. In this quaint lakeside setting, a collection of unique shops and world-class restaurants offer both small town charm and big time choices.
GREAT MEALS ARE OUR SPECIALTY
Attentive service and spectacular food are always on the menu at Celebration's acclaimed restaurants! Choose from Spanish specialties at the Columbia Restaurant, upscale Italian cuisine at Café D'Antonio, award-winning fare at Max's Grille or down-home cooking at Max's Cafe & Coffee Shop.
EXPERIENCE OUR HOMETOWN EVENTS
The latest blockbusters are on-screen at the AMC Celebration 2 theaters, while handmade crafts and fresh produce can be found at our Saturday Farmers Market. Add bike rentals, an 18-hole championship golf course and a calendar of special events featuring live entertainment, and its hometown relaxation at its best.
DISCOVER HIDDEN TREASURES IN 0UR LAKESIDE SHOPS
Over 20 one-of-a-kind shops dot a picturesque streetscape designed by some of the world's most famous architects. From essentials to extreme, a wide selection of quality merchandise is always in store.
GOLF, GOLF, GOLF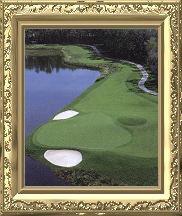 Designed by the renowned father and son team Robert Trent Jones and Robert Trent Jones Jr., Celebration Golf Club offers an experience unlike any other. Celebration's five sets of tees on every hole provides the perfect day of golf for players of all skill levels. And, with beginner tees on each hole as well as a three-hole junior course nearby, no one will be left out.
Celebration's natural park-like setting also creates an exquisite experience for golfers. Whether strolling across lush, tree-lined fairways or shooting across clear blue skies, you can't help but feel at peace.
Just a short drive from downtown Orlando, Celebration Golf Club truly offers a unique setting. Come celebrate 18 of the best holes of golf you'll ever play.
Reserve tee times up to 30 days in advance.

3-hole junior course. Now every member of your family can play. The kids faces light up with pride as they sink their first birdie on the innovative 3-hole course.

Driving range and practice facilities. Aim straight for the lake. This is one hazard you won't want to miss! Practice facilities available, including putting green, practice hole and chipping area.

Meeting and banquet facilities. What better way to celebrate any occasion than in such a perfectly unique setting. Plan a small wedding or a meeting in our Jones Room. At Celebration, every occasion is a special event.

Fully stocked pro shop. From top name golf balls to custom fitted clubs to name brand attire for the whole family.

Quality equipment rental. Premium Callaway® club rentals and Footjoy® shoes are available for out of town guests.

Golf Outings. From employee appreciation days to regional corporate events, our professional staff services all types of group tournaments. The club handles all of the details.